I have always wante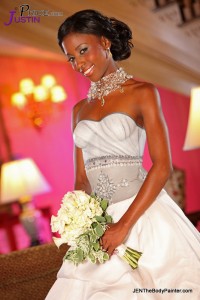 d to paint a bride and a groom and have them actually get married with my body painted fashion designs. One day I will do just this! As I am a professional makeup artist I am extremely involved in the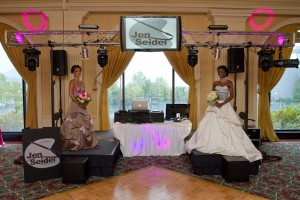 wedding business and come across many different vendors with my work. One of the companies I am honored to work with is The Perfect Wedding Guide which is a company serving Maryland, Virginia and Washington DC. Between hiring vendors, selecting a venue and finding the right dress, it's hard to figure  out where to begin or how to plan a wedding that lives up to all your expectations. Whether you are working with a local wedding planner or braving the task on your own, their online guide offers valuable resources that will make planning a wedding as stress-free as possible. Their on-line guide will lead you through every step of the process and will ensure you will not miss any detail.
Perfect Wedding Guide sponsors  their own annual events for their vendors and they had
asked me to body paint a bride for the first one featuring my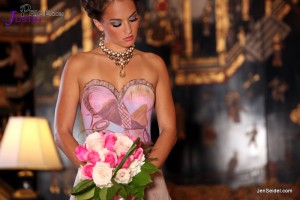 body painted models held at The Harbor Court Hotel in Baltimore, MD . We decided for this first time body painting event I would body paint one bride and one bridesmaid. We fit the models with two beautiful silk bridal skirts one in cream and one in taupe provided by Betsy Robinson Bridal Collection in Baltimore, MD. As I applied each models  makeup I had professional hair expert Abby do her magic to match each look. They then stood in front of the mirror as I painted a bridal corset in cream and a colorful bridesmaid corset.  I was used to painting logos and being constricted with certain styles for my previous clients that I was very excited to be able to paint whatever I  wanted to match the skirts.  I was able to create my own looks.  I used several pictures from different bridal fashions to use as a guide creating my own original style.  Each model took me about 3 hours to hand paint and complete. The models then attended the event as they were placed on block podiums  to show off the body art, makeup , hair  and clothing. The guests were in awe as they did not even realize at first that these models were in painted tops. Once they did, the photos did not stop all night. The models were posing left and right with all the guests until the very end of the event.
Photographer Robert Betz of Ripple Effect Productions capture many of these pictures through the evening. Photographer Justin Price  who also attended decided to take one of the models outside and have her sit in the street. Once we got permission to get the bridesmaid skirt a little  dirty , we  took her outside and did the shoot.
The second Perfect Wedding Guide event the following year was  a Halloween Soiree held at The Engineers Club also in Baltimore, MD. This time I body painted my models as a vampire bride and groom. The bride was painted in a beautiful  off the shoulder corset and fitted by  Betsy Robinson Bridal Collection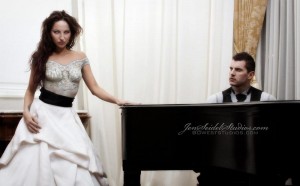 . The groom was painted in a white dress shirt and black tie and vest, fitted on the bottom by Tuxedo House out of  Towson, Maryland.  After I hand painted both 
models which took me about 3 ½ hours each and applied with makeup with  Linda Seidel Cosmetics they added white contacts for the vampire effect to their eyes. 80 West Studios spent time setting up a professional photo shoot posing the models in different rooms, one being on a beautiful piano and a steep staircase. They strolled the antique hallways and wooden staircases together greeting the guests who did not realize they were even painted. When the acknowledgments were announced and they introduced the body painted bride and groom you could hear the crowds disbelief.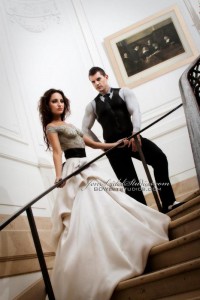 The guests who were tricked by the painted illusion of their clothing were excited to see that it was art and the painted models ended the evening gala posing for pictures . Again, all the time and effort it takes me to paint for an event like this makes it all worth it … as I watch the smiles, amazement, and appreciation for my work.